'Unhealthy environments' kill 12.6 million people annually - WHO report
Comments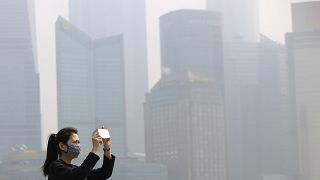 An estimated 12.6 million deaths each year are attributable to unhealthy environments, according to a new report by the World Health Organization (WHO).
The second edition of the report, "Preventing disease through healthy environments: a global assessment of the burden of disease from environmental risks", reveals that since the report was first published a decade ago, deaths due to noncommunicable diseases (NCDs) amount to as much as 8.2 million of these deaths.
NCDs, such as stroke, heart disease, cancers and chronic respiratory disease, now amount to nearly two-thirds of the total deaths caused by unhealthy environments.
Young children and older people bear the brunt of the environmental risks, the report finds, with children and under-fives and adults aged 50 to 75 most impacted.
How to reduce environmental disease burden
The report cites what is says are proven strategies for improving the environment and preventing diseases.
Using clean technologies and fuels for cooking, heating and lighting, for instance, would reduce acute respiratory infections, chronic respiratory diseases, cardiovascular diseases and burns.
Smoke-free legislation reduces cardiovascular diseases
Smoke-free legislation reduces exposure to second-hand tobacco smoke, and thereby also reduces cardiovascular diseases and respiratory infections.
Improving urban transit and urban planning, and building energy-efficient housing would reduce air pollution-related diseases and promote safe physical activity.
Many cities are already implementing many of these measures. The Brazilian city of Curitiba has invested in, amongst other things, a "bus rapid transit" system, alongside green spaces and pedestrian walkways to encourage walking and cycling.
Despite a five-fold population increase in the past 50 years, air pollution levels are comparatively lower than in many other rapidly growing cities and life expectancy is two years longer than the national Brazilian average.
Through WHO's water safety plans, the Nepali town of Amarapuri identified open defecation as a water quality hazard. The village built toilets for each household and was later declared an Open Defecation Free Zone by the local government.
Road to health
Currently, WHO is working with countries to take action on both indoor and outdoor air pollution. At the World Health Assembly in May, WHO will propose a road map for an enhanced global response by the health sector aimed at reducing the adverse health effects of air pollution.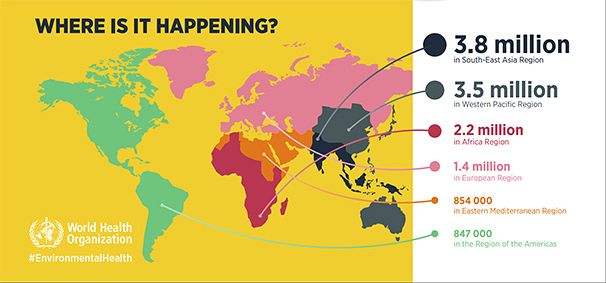 Map showing location of 12.6 million annual deaths due to unhealthy environments