Turkey detains suspects in clampdown after Ankara bombing
Comments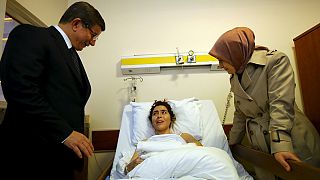 Turkish Prime Minister Ahmet Davutoglu has visited some of those injured in Sunday night's deadly bomb attack in Ankara.
Thirty seven people were killed and 15 others remain in a critical condition. No group has claimed responsibility but the Prime Minister has said "evidence" points to the banned PKK (Kurdistan Workers Paryt) separatists group.
On Monday Turkey launched air strikes against Kurdish rebels in northern Iraq. The authorities also detained 15 people in operations against the PKKand 50 more elsewhere in the country.
Turkey's President Recep Tayyip Erdogan says he intends to redefine terrorism to include those who support such acts, not to restrict it to the person holding the gun or bomb.
A very dangerous game! Ankara bombing: Erdogan seeks to widen terrorism definition https://t.co/3bJoO58tdC

— Simon J. Smith (@sjasmith) March 15, 2016
Protesters took to the streets in central Ankara on Monday night showing their anger towards a government which has failed to protect them from this latest attack.
Sunday's blast was the second suicide bombing in a month in the heart of the capital. It's raised fears of a dangerous new phase in the government's war with Kurdish militants, bringing more violence fuelled by the wars in Syria and Iraq.