'Everyone is nervous': fear in Ankara as first bomb funerals are held
Comments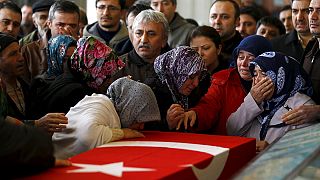 Everyday life resumed on Monday close to the scene of Ankara's latest bombing. But understandably there is fear on the streets of the Turkish capital, relatively quiet amid pouring rain.
Our lives are in danger. Everybody is nervous when out walking or travelling by bus
The country faces threats from Kurdish militants and ISIL; local jihadist groups and leftist radicals have also staged attacks.
Kerem, a man who witnessed Sunday's bomb, spoke to euronews.
"I was frozen with fear. I was standing (nearby). I rushed to the site and tried to help the wounded. I saw people burned inside a bus. They were still holding the seats. Human flesh was everywhere. Then police arrived and cordoned off the area. I helped the victims, we put them into ambulances," he said.
We asked another man whether he was afraid.
"Of course,"he replied. "We are anxious. Not only for us but also for our families. For our relatives and friends. I hope this ends soon. Our lives are in danger. Everybody is nervous when they're out walking or travelling by bus."
Our correspondent in the Turkish capital, Bora Bayraktar, added: "People in Ankara are worried, and the usually busy city centre is far from crowded today."
This is a wide shot of the attack scene in Ankara. euronews</a> <a href="https://t.co/qGS1PdyExk">pic.twitter.com/qGS1PdyExk</a></p>&mdash; Bora Bayraktar (Bora_Bayraktar) 14 March 2016
#Ankara blast site under pouring rain. One single flower on the road getting drenched. A subdued city today pic.twitter.com/eqxgZrly4h

— Mark Lowen (@marklowen) 14 March 2016
Meanwhile the funerals have been held for some of the people who died in Sunday night's attack.
Many of the victims were young. Among them were a 16-year-old boy whose family had moved to Ankara to help fight his liver disease. Several students, at least one teacher, and a local politician were also killed.
Another victim was Kemal Bulut, the father of footballer Umut Bulut – a Turkish international who plays for the Istanbul club Galatasaray – who had apparently just watched his son's side play a match against the Ankara club Gençlerbirliği.
Galatasaray and Turkey striker Umut Bulut lost his father in the #Ankara bombing yesterday #RIPpic.twitter.com/Enp8OuiS9t

— BreatheSport (@BreatheSport) 14 March 2016
Our deepest condolences to our football player Umut Bulut who lost his father, Kemal Bulut, in last night's terror attacks in Ankara.

— Galatasaray EN (@Galatasaray) 14 March 2016
Galatasaray & Fenerbahçe fans requesting to watch the derby together in mixed stands after #Ankara#derbideomuzomuzapic.twitter.com/zAxqlnGjU5

— Turkish-Football.com (@Turkish_Futbol) 14 March 2016