Russia begins withdrawal from Syria, pilots welcomed home as heroes
Comments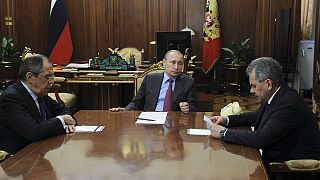 The international community has reacted with surprise to the news that Russia is to pull out the "main part" of its forces from Syria.
Although President Vladimir Putin offered no withdrawal deadline he did say Russian troops would start coming home within hours.
The reason he gave was that the intervention was in accordance with the situation on the ground and that objectives had been achieved.
"Thanks to the participation of Russian military grouping, the Syrian armed forces and patriotic forces in Syria have been able to achieve a fundamental turnaround in the fight against international terrorism," said President Putin.
Russian President #Putin looks to cash in on gains, reduce risk in Syrian conflict; orders start of military pullout https://t.co/e9gfUF8OXN

—

KTVU

(@KTVU) March 14, 2016
Russia's military involvement has turned the tide of war in Syrian President Bashar al Assad's favour after months of gains rebel fighters.
Moscow isnt abandoning its ally altogether. Its forces will remain at a sea port and airbase in Latakia province.
Syria has rejected any suggestion of a rift with Moscow, saying President Bashar al-Assad had agreed on the "reduction" of Russian forces in a telephone call with Putin.
Rebels and opposition officials alike reacted sceptically.
"I don't understand the Russian announcement, it's a surprise, like the way they entered the war," said Fadi Ahmad, spokesman for the First Coastal Division,a Free Syria Army group.
The UN and Security Council President, Ismael Abraao Gaspar Martins has cautiously welcomed the pull out.
"When we see forces withdrawing it means…war is taking a different step, so that's good. This has been made possible thanks to the good cooperation now between the US and Russia."
The current fragile truce in Syria has seen a rise in anti-government rallies in several cities.
It's five years now since the bloody conflict which has cost the lives of more than 250,000 people and triggered a major refugee crisis in Europe began.