Fighting rages across southeastern Turkey
Comments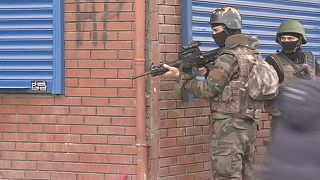 Several dead in Diyarbakir
Turkish jets pound

PKK

targets
Erdogan broadens his definition of terrorism
The news
One police officer and three militants have been killed in clashes between Turkish security forces and Kurdish insurgents in southeast Turkey's largest city.
Kurdistan Workers Party (PKK) fighters blocked roads and halted traffic in the Kaynartepe neighbourhood of Diyarbakir.
As dawn broke, the extent of the damage became clear.
10s of torched/barricaded/burned cars in the streets of Baglar/#Diyarbakir by pkk militants. So sad to see this. pic.twitter.com/7OQsNYVIWk

— taylieli (@taylieli) March 15, 2016
Burned out cars littered the streets.
A ceasefire has been declared. However, the atmosphere remains tense.
A ceasefire has also been declared in Yuksekova near the Iranian border and Nusaybin near the Syrian border.
The context
Davutoglu 'almost certain' #PKK behind Ankara bombing https://t.co/y4HkOTw6ONpic.twitter.com/qVt8IjPgOx

— dwnews (@dwnews) March 14, 2016
Turkish warplanes strike Kurdish camps in northern Iraq after Ankara bombing: https://t.co/gpTXx2cuPzpic.twitter.com/KF1sfzJYf6

— Reuters Top News (@Reuters) March 14, 2016
The Turkish military launched air strikes on Monday in the wake of a car bombing in Ankara on Sunday evening that claimed the lives of at least 37 people.
They targeted the Qandi mountain area of northern Iraq, where the Kurdista Workers' Party or PKK has its main bases.
Two weapons depots and two rocket positions were destroyed.
Turkish officials say 45 PKK fighters have been killed.
The Turkish government has further hardened its attitude since Sunday's bombing and is actively pursuing a policy of zero tolerance.
Erdogan might start labelling critical journalists, lawmakers and activists as 'terrorists' https://t.co/l0kcSeo9S3pic.twitter.com/buQToC7mgX

— The Independent (@Independent) March 15, 2016
Speaking to reporters, President Recep Tayyip Erdogan said, "There is no difference between a terrorist who carries a gun and those who use their positions to put everything at the terrorists' disposal so they can achieve their aims. They can be an academic, a politician, an author, a journalist or someone from an NGO. They are still a terrorist."
Violence has surged across the mainly Kurdish southeast of Turkey since a two-and-a-half year ceasefire collapsed last July.
Turkey's vortex of violence
July 2015 33 pro-Kurd activists die when a peace rally is targeted in Suruç
October 103 die, 250 wounded when bombers target peace rally in Istanbul
January 2016 13 foreign nationals die in suicide bomb attack in tourist heart of Istanbul
.
February 2016 28 die in an attack on a military convoy in Ankara
March 2016 37 die in bus stop bomb attack in
Ankara