Millions in Brazil demand President Rouseff's impeachment
Comments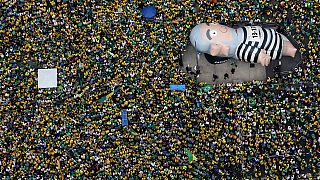 As many as three million people have rallied in cities across Brazil calling for president Dilma Rouseff's impeachment over alleged fiscal mismanagement and low approval ratings.
The country is amid an investigation into corruption at oil giant Petrobas that involves the former president as well as key figures from Rouseff's inner circle.
Investigators have been looking into claims that former President Lula da Silva benefited from illegal kickbacks at Petrobras when he was in power.
Many held up dolls representing de Silva and Rouseff wearing prison uniforms.
"I feel bad, I believed in them [in the Workers' Party] like all Brazilian people believed in them, and this is what we get [corruption]. So, now [we want] all the corrupts out," said protester Maria de Lourdes Prado da Rocha.
"We cannot bear the corruption anymore," said Daniel, another protester. "We support the country's hosting of the Olympic Games and other large events, and the development that comes with them, but the problem is that the country lacks effective governance and there is too much corruption."
Observers say the big turnout at Sunday's protests could further hamper Rousseff's ability to fight for her political survival.