Ski-jumping: Forfang celebrates maiden win
Comments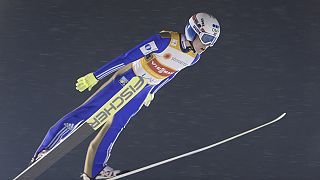 Johann Andre Forfang upstaged the big guns to win his first individual ski-jumping event in Titisee-Neustadt, southern Germany.
With stunning jumps of 144 and 143 metres the 20-year-old Norwegian scored 265.9 points and took his first win on the World Cup circuit.
Overall World Cup champion Peter Prevc only just missed out on his 14th win of the season coming in second on the day.
The Slovenian scored 261.2 points with jumps of 139 and 138.5 m.
Third place went to Forfang's teammate Kenneth Gangnes.
Gangnes, who is third in the overall World Cup, was 11th after his first jump of 126m, but with fine 140 metres in the final he propelled onto the podium with 235.4 points