Sri Lanka: "Not just the beach or the elephant"
Comments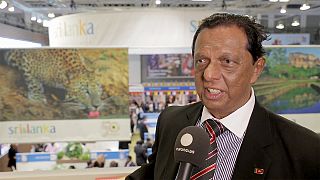 Euronews spoke at Berlin's ITB to John A.E. Amaratunga, Sri Lanka Minister of Tourism, about how Sri Lanka tries to unfold its full potential as a tourist destination.
Diversity is what we can offer, it is not just the beach or the elephant, there is so much else that a tourist visiting Sri Lanka can enjoy. And we realize now our numbers are increasing, the demand for Sri Lanka is day-by-day increasing. The fact remains that we are now advertising and getting the world to know what a tourist can expect in Sri Lanka. The investment on the hotel sector is now rapidly increasing, large numbers of rooms are coming up, a large number of travel agents are there, transport facilities are there, the airlines are cutting in. I think we can be a number one tourist center for South East Asian countries as it is.