Greece: 42,000 migrants and counting as European borders stay shut
Comments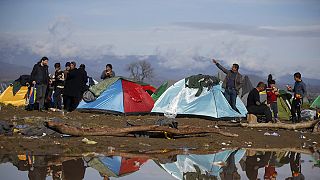 With the door still firmly shut to thousands of migrants and refugees on the Macedonian border, we asked our Athens correspondent Stamatis Giannisis for a snapshot of the migrant situation in Greece.
"As we speak, there are an estimated 42,000 migrants on Greek soil," he said.
"Some 12,000 of them are at the Idomeni camp on the Greek -Macedonian border while 10,000 are still in the eastern Aegean islands, overlooking the Turkish shores .
"Of the 20,000 migrants scattered around mainland Greece from the country's capital all the way to the northern borders, 10,000 are said to be in the Greater Athens area.
"A total of 30% of all the migrants in Greece are believed to be children, but only 42% say that they are Syrian nationals.
"The Greek government claims it has the capacity to offer shelter to at least 30,000 migrants but most of them are highly reluctant to use those facilities, fearing that if they check in, they might get arrested and not be allowed to continue their trip to western Europe."
As the numbers at Idomeni have built up over recent days, the UN Refugee Agency, the UNHCR, has warned of an imminent humanitarian crisis.
We urge solidarity & quick action to avert a disaster in #Europehttps://t.co/ARBf32RWxLpic.twitter.com/ewAzfjhOzM

— UN Refugee Agency (@Refugees) 11 mars 2016
The Médecins Sans Frontières (Doctors without Borders) aid agency has also raised the alarm.
Everyday at #Idomeni, our medical team treats kids made sick by their poor living conditions in the camp. pic.twitter.com/Cy9rXlnLBT

— MSF Sea (@MSF_Sea) 11 mars 2016
1000s of #people from newborns to the elderly will sleep in mud covered tents at #idomeni tonight. pic.twitter.com/w2lvx0h9fx

— MSF Sea (@MSF_Sea) 10 mars 2016