Judo undergoes 2016 Olympic test event
Comments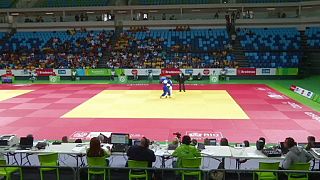 The testing of sports events, arenas and facilities for the Rio Olympics are coming thick and fast now with just under five months to go until the opening ceremony for the first Games to be held in South America.
Judo was the latest sport to put the Carioca Arena 1, inside the Olympic Park, through its paces.
And according to International Judo Federation (IJF) Media and Communications director Nicolas Messner – it's a massive thumbs up.
"So far, it's really, I mean, good, really good impressions. We know that organising Olympic Games is a long story, it's a complicated story and needs a lot of effort, a lot of commitment from everyone. And the test event is the place where we, I mean, these are the first steps, the first taste of the games. And that taste is a really good taste so far. it's really a great event," said Messner.
Each sport included in the Olympic program organises a test for the 2016 Games which takes place through August 5-21, while the Paralympics will be staged from September 7-18.