Google marks new artificial intelligence (AI) milestone
Comments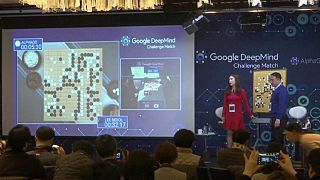 Google has marked a new milestone in the development of artificial intelligence.
One of the world's best players of the Chinese board game Go has been beaten by Google's AlphaGo computer programme.
South Korean professional Go player Lee Sedol, an 18-time international title winner, conceded defeat in a match broadcast live, with one YouTube stream watched by tens of thousands of people worldwide, and domestic cable gave frequent updates.
AlphaGo, built by Google subsidiary DeepMind, made history in October, by becoming the first computer programme ever to beat a human professional player at the ancient Asian board game.
But Lee was considered a much bigger hurdle for a machine to overcome in what many experts consider to be the most complex board game in existence.
Go, most popular in countries such as China, South Korea and Japan, involves two players moving black and white stones on a square grid with the aim of seizing the most territory.
Experts did not expect an AI programme to beat a human professional for at least a decade, until AlphaGo's victory over Fan Hui last year.
AlphaGo's ability to learn on its own in a human-like manner, key to its success, also underscores the advance of AI.
When it comes to computing, storing and predicting of patterns, AI wins. Go Master Walloped by Emotionless #AlphaGohttps://t.co/Y1P2QcW4sz

— Fei-Fei Li (@drfeifei) March 9, 2016