EU's migration system close to 'complete breakdown'
Comments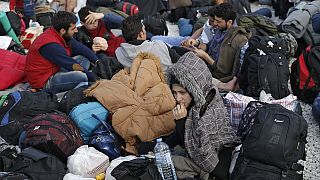 The EU's migration system is on the point of complete breakdown, according to a top European Commission official.
Dimitris Avramopoulos, the European Commissioner for migration, issued the stark warning after a meeting between EU interior ministers on Thursday.
"In the next ten days, we need tangible and clear results on the ground, otherwise there is a danger, there is a risk that the whole system will completely break down. There is no time for uncoordinated actions," he told reporters in Brussels.
A number of EU countries have introduced border checks amid disagreements over how to best handle the huge influx of refugees and migrants into Europe.
Austria irked some EU officials by calling a mini summit with Western Balkan nations – without inviting Greece or Germany
The Austrian government has also set a daily cap on how migrants per day are allowed to enter the country, ignoring a warning from European Commission lawyers
"We have to recover our ability to act – and that will only be possible when the European external border is protected," said Johanna Mikl-Leitner, the Austrian interior minister.
"If Greece stresses over and over again that it is not possible to protect the Greek border…we have to ask the question if it's possible that the external border of the Schengen area stays in Greece."
The Schengen area is a passport-free travel zone including 26 countries, of which 22 are EU member states.
But the migration crisis, which saw more than a million people reach Europe last year, has left some observers to question whether the whole system may be at risk.
The influx of migrants has exposed divisions between EU governments, which are trading accusations of blame and resulting beggar-thy-neighbour policies to tighten border controls.
Belgium became the seventh Schengen member on Wednesday to introduce border checks as it became clear that a court in Lille would order the partial demolition of the infamous Calais 'Jungle' refugee camp.