Silence and demonstrations mark second MH370 anniversary
Comments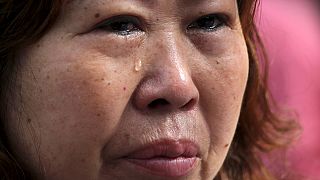 A minute silence has been held in the Malaysian parliament to mark the second anniversary of one of the world's greatest mysteries in aviation history.
Relatives of the 239 people on board Malaysia Airlines Flight MH370 have also held a demonstration in Beijing, exactly two years to the day the Boeing 777 disappeared.
And some hold to the hope their loved ones are still alive.
One woman related to five of the MH370 passengers, Dai Shuqin, said: "We don't know if they're alive or dead. We don't know if they're well or not.
"We're incredibly worried. We all have anxiety, phobias and depression.
"Our purpose of coming here is to pray for them. If they're alive, and whatever place they're in, we hope to pray for they're safety."
Wreckage believed to be from the airliner was found on a beach in Mozambique last week and is being sent to Australia for further examination.
The plane disappeared en route from Kuala Lumpur to Beijing with mostly Chinese passengers on board.
Australia says still seeking answers on 2nd anniversary of #MH370 disappearance https://t.co/gmx9DU6aQypic.twitter.com/ddEaFyicHe

— China Xinhua News (@XHNews) March 8, 2016
Will #MH370 mystery ever be solved? Two years after it vanished, Malaysia says still hopeful https://t.co/LuPqqK7NLppic.twitter.com/b4xnmxrev9

— China Xinhua News (@XHNews) March 8, 2016
Remembrance ceremony held in #Malaysia Sun to commemorate anniversary of #MH370 disappearance, which was Mar 8, 2014 pic.twitter.com/g3jLIcenD2

— People's Daily,China (@PDChina) March 7, 2016
Chinese MH370 relatives file lawsuit in Beijing https://t.co/SFFK5Cqn84pic.twitter.com/uUnc0ZKvAE

—

AFP

news agency (@AFP) March 7, 2016
12 Chinese families with relatives aboard missing Flight 370 file lawsuit against Malaysia Airlines: https://t.co/v9VRiy8nH8

— The Associated Press (@AP) March 7, 2016
Malaysia committed to solving #MH370 mystery, prime minister says https://t.co/PnQWeqToOYpic.twitter.com/o7NDSvzzmX

— Wall Street Journal (@WSJ) March 8, 2016