Sharapova drugs admission swamps social media
Comments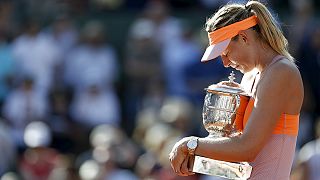 The world has been reacting to Maria Sharapova's announcement that she tested positive for a banned substance.
This is the drug that got Maria Sharapova suspended from tennis https://t.co/HxQcXBgBDYpic.twitter.com/kFW5dvRQ36

—

CNN

(@CNN) March 8, 2016
It remains to be seen how the anti-doping authorities react to case of Maria Sharapova.
The drug Meldonium was banned by WADA on January 1, 2016 and Sharapova was tested at the Australian Open between 18-31 of January.
The substance increases exercise capacity in athletes and many more sports people are now showing positive tests for it.
Twitter exploded, former world number one Jennifer Capriarti whose career was ended by injury, tweeted:"I'm extremely angry and disappointed. I had to lose my career and never opted to cheat no matter what. I had to throw in the towel and suffer."
Former tennis star Jennifer Capriati slams Maria Sharapova over her failed drug test | https://t.co/3o7bhmorCMpic.twitter.com/mvM4fs0IoP

— 7Sport (@7Sport) March 8, 2016
Martina Navratilova was more cautious: "Hold your horses everyone – about Maria – I don't have all the facts, I hope it's an honest mistake, stuff was legal as far as I know till 2015."
On this day, March 8, 1986, Martina Navratilova becomes first tennis player to earn $10,000,000. #IWD2016#EqualPaypic.twitter.com/r6hNarvXyY

— Andrew Orsatti (@AndrewOrsatti) March 8, 2016
Former player James Blake added:"Wow.Classy of @MariaSharapova to hold a press conference for this and admit making a mistake. Definitley agree that have to be aware though."
Current player Ryan Harison added:"Maria handled that so well. In my opinion, honest mistake from a great champion."
Video: Serena Williams says Maria Sharapova has shown 'courage and heart' https://t.co/q4u88vzmztpic.twitter.com/YkMvO9PfpU

— Indy Sport (@IndySport) March 8, 2016
Her rival on the court for years, Serena Williams said :"Most people were surprised and shocked by Maria, but at the same time, I think that most people were happy that she was up front and was very honest and showed a lot of courage to admit to what she had done and what she had neglected to look at."
In Moscow former boxer Sergei Simakov adopted a more jaded attitude:"She is not guilty of doping, but she is guilty of being caught. Because everybody takes drugs. If you said to me that athletes don't take drugs.I'm a former sportsman, I'm now 55 years old, when I was a youth I was involved in professional sport… and if you said to me that professional athletes don't take drugs, then you'd make me laugh."
The legal position is as follows, either she has deliberately taken it, knowing it is banned, which is cheating, or she has taken it not knowing it is banned, which is negligence, both warrant suspension.