Israel: US tourist is killed and dozens wounded in wave of attacks
Comments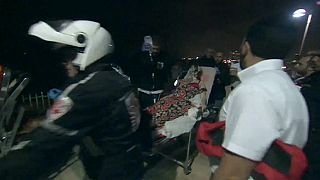 A wave of Palestinian attacks have left one American dead and a dozen Israelis wounded near Tel Aviv and East Jerusalem, according to Israeli police.
The American was one of ten people stabbed in the Jaffa port area, popular with tourists. It happened as US Vice President Joe Biden was being met by former Israeli President Shimon Peres at the start of a two day visit.
US tourist dies and at least 13 others injured in attacks across Israel https://t.co/EqfFVooGTh

— Evan Hill (@evanchill) March 8, 2016
The White House is trying to appear indifferent to a snub by Israeli Prime Minister Benjamin Netanyahu who has cancelled a meeting later this month in Washington . Its being seen as yet another sign of strained relations between the two administrations.
"The President sends his greetings and I, we, have absolute total, unvarnished commitment to the security of Israel. And I hope we can, I think we can make some progress," said the US Vice-President.
Biden, whose 2010 visit to Israel was marred by acrimony over a Jewish settlement plan announced during his trip, is due to hold talks on Wednesday with Netanyahu in Jerusalem and with Palestinian President Mahmoud Abbas in the occupied West Bank.
There were other attacks on Tuesday including a shooting incident and an attempted stabbing near East Jerusalem.
Since October a series of stabbings, shootings and car rammings have killed 28 Israelis. Security forces have killed at least 177 Palestinians, 119 of whom Israel says were assailants. Most were shot dead during violent protests.