US to restrict ZTE over alleged Iran sanctions busting
Comments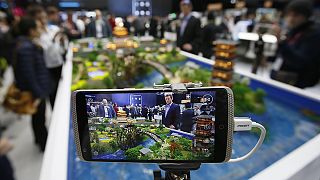 The US government is reportedly about to put in place export restrictions on Chinese telecoms equipment maker ZTE.
The report, from the Reuters news agency, said that was over alleged violations of sanctions against Iran.
The move would block any American-made equipment or parts being sold to ZTE, which has major trading relationships with several US companies including Qualcomm, Microsoft and IBM.
Up to 15 percent of the components used in its telecom equipment and smartphones come from the US. As one of the world's largest telecoms equipment makers, ZTE has operations in 160 countries, according to its website. It is also a major manufacturer of mobile handsets.
China's Foreign Ministry expressed anger at the planned restrictions. "China is opposed to the US citing domestic laws to place sanctions on Chinese enterprises," Chinese Foreign Ministry spokesman Hong Lei told a daily news briefing.
"We hope the US stops this erroneous action and avoids damaging Sino-US trade cooperation and bilateral relations," he said, without elaborating.
ZTE said it has been working with US government departments on investigations since 2012 when it was revealed that it had signed contracts to ship millions of dollars worth of hardware to Iran's largest telecoms carrier.
Washington has long banned the sale of United States-made technology products to Iran. The Commerce Department's investigation focused on whether ZTE had acquired American products through front companies and then shipped them to Iran in violation of US sanctions.
Commerce Department investigators obtained internal ZTE documents – some of which had been marked by the company as 'Top Secret' – outlining an alleged sanctions-busting scheme.
One undated internal ZTE document seen by Reuters describes a proposal overseen by the company's legal department that describes ways to export American products subject to US sanctions by using shell companies to avoid getting caught.