'Militants' attack Tunisian border town of Ben Guerdan
Comments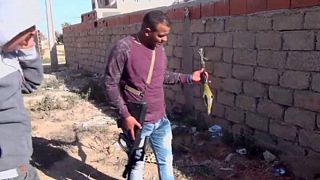 Tunisia's government said dozens of Islamist militants attacked army and police posts in the town of Ben Guerdan.
It said at least fifty people were killed in the raid, including civilians.
Bodies of dead fighters lay in the streets near the town's military barracks.
Ben Guerdan lies close to the border with Libya. Authorities closed two border crossings are the attack.
Tunisian forces have been poised for possible militant attacks since a US air strike last month targeted mostly Tunisian ISIL fighters across the border in the Libyan town of Sabratha.
Tunisia's president addressed reporters after the attack.
"Today's attack on the army, the guards and security in Ben Gerdane since 5 a.m. is unprecedented, organized and was probably meant to control the area and declare a new state (territory)," said Beji Caid Essebsi. "In fact, I would like the Tunisian people to be proud that the Tunisian army, guards, and security personnel were vigilant in response to previous events. Reinforcements were in place and were poised for an attack."
Western military advisers have been training Tunisian border forces to better protect their frontier. Authorities have dug a trench and built a barrier to help stop militants crossing from Libya.