The living nightmare of migrants arriving in Greece
Comments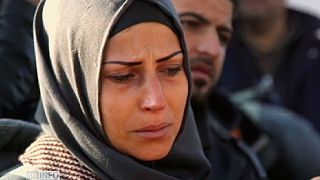 In this week's Perspectives, we follow reports from around Europe on the plight of migrants arriving in Europe.
Greece is only a transit point for them but many migrants fleeing conflict are stranded in the country because of closed borders. Greece is facing a humanitarian emergency and chaos as Swiss channel RTS. reported.
It is through Greece migrants hope to cross through the border to Macedonia and finally to Germany. But now the border is closed, with a lot of guards and 10,000 refugees are stranded there on the Greek side. Italian channel RAI 3 met with some of them.
While French President Francois Hollande and British Prime Minister David Cameron met this week in part to discuss the migrant crisis and the problems in Calais, France 2 was interested in the story of two brothers who were reunited in London. A beautiful but rare story.
If the long ordeal they endure to reach Europe is highly publicized, little is said, by contrast to what awaits migrants after they have settled. Often there is the administrative hassle but also psychological consequences. RSI met a family who have been living in Switzerland for two years.