Signs of a breakthrough with Turkey on the migrant crisis
Comments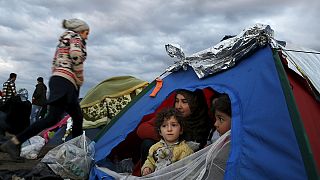 As migrants continue to gather on the Greece's border with the Former Yugoslavian republic of Macedonia, EU leaders are hinting as some sort of consensus on a way forward on the issue.
Greece is at the forefront of the crisis, being the main entry point for thousands of refugees who continue to make the short but often perilous journey from Turkey.
The EU Council President Donald Tusk held talks in Ankara on Friday and will chair an emergency summit in Turkey on Monday. He expressed cautious optimism that Turkey is starting to cooperate.
Struggling Greece can't afford to bear the burden of the crisis alone, a point not lost on the Greek Foreign Minister Nikos Kotzias:
"We both (Turkey and Greece) agreed that the refugee issue is not just a Greek or Turkish issue. Nor can can it be solved within the framework of Greek-Turkish bilateral relations alone. It is a global issue that is tormenting Greece and Turkey now, and affecting the rest of Europe."
Official EU statistics show a record 1.2 million new asylum seekers in the European Union in 2015, more than double the previous year. Almost half were from Syria, Afghanistan and Iraq.
The EU is demanding that Turkey crack down on people smuggling and take back all illegal immigrants from its shores who do not qualify for asylum in the European Union. The EU council president said there were signs that Ankara is ready to consider such a move.