The supercars are the stars of the Geneva motor show, but what about hybridization?
Comments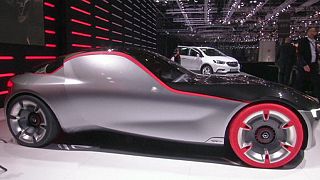 Some of the most expensive cars in the world are on display as the Geneva motor show opens – including the 2.4 million euro Bugatti Chiron and the Lamborghini Centenario, priced at a mere 1.75 million euros.
What do those two have in common? Well, both marques are owned by Volkswagen, the car maker best known right now for rigging their diesel engines to give false results on emissions tests.
Diesel is not an option for those super luxury models and according to industry watcher Tim Urquhart with IHS Automotive it is falling out of favour generally as petrol engines become more efficient: "I think you're going to see a migration to petrols from diesel anyway. We're not talking a huge move, but a little bit maybe, and I think it might be more to do with just the overall market dynamics rather than what happened to VW last September."
The anti-pollution regulations that VW tried to cheat are a driving force according to BMW board member Ian Robertson.
He says the rise of the hybrid is based on stricter emissions limits: "Hybridization is going to be an important part on this journey towards a much lower CO2 environment. If we go to the regulators in Europe or the United States – or China for that matter – when we get to 2020 or 2025 there has to be a lot more hybrid and zero emissions in the fleet to meet the targets that the industry is going to be set."
And Volkwagen, as part of its mea culpa, and to overcome the Dieselgate crisis is promising to win back customers' trust by increasing its electric car offerings as well as focus on new technologies such as self driving cars.
But for all the manufacturers at the Geneva show there is relief that at least now sales in Europe are recovering, rising by 6.3 percent in January from a year earlier and up by 8.9 percent for all of 2015.