Russian atheist 'faces jail' under anti-blasphemy law
Comments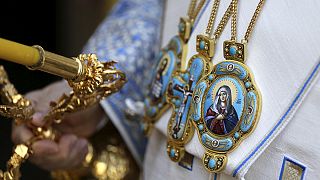 There are claims that a Russian blogger who denied the existence of God in online comments could face a year in jail – under a law brought in after the Pussy Riot case.
Viktor Krasnov, 38, appeared in court this week in Stavropol in southwest Russia, his lawyer Andreï Sabinine told AFP. The trial began on February 4.
In October 2014 Krasnov, an unemployed trainee nurse, made the comments regarding believers on a satirical website, AFP reports.
"If I say that the collection of Jewish fairy tales entitled the Bible is complete b***s***, it's true, a least for me," he wrote, before adding: "God doesn't exist".
His trial follows a complaint from one of his correspondents on the site, who accused him of "offending the sentiments of orthodox believers".
In 2013 Russia passed a law allowing jail sentences for "offending religious feelings".
Researchers say the law's wording is imprecise and stricter punishments have led to increased censorship and self-censorship.
Last June investigators sought to have Viktor Krasnov hospitalised for a month for psychiatric tests which finally concluded that he was sane.
In September more court-ordered tests, linguistic this time, detected "insults" towards believers in Krasnov's comments.
His lawyer insists that the blogger is "only an atheist" and that he also targeted Halloween and Jewish holidays.
Krasnov's next court appearance has been scheduled for March 15.
The Pussy Riot case in 2012 saw three members of the Russian group convicted of "hooliganism motivated by religious hatred" after staging a "punk prayer", critical of Vladimir Putin, in a Moscow cathedral. Two members served 21 months in jail.
In another controversial blasphemy case in Russia, a production of the Wagner opera Tannhauser was banned in Siberia for "offending religious believers".