No empty stadia for Euro 2016 - France coach Deschamps
Comments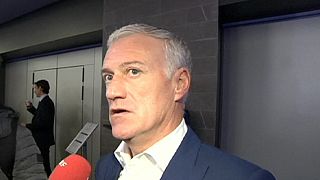 The head coaches of the 24 teams participating at this summer's European championships in France gathered in Paris this week for a pre-tournament coaching working shop.
Due to two deadly terrorist attacks in the capital in 2015, security has understandably been high on the agenda, but France coach Didier Deschamp was keen to quash rumours that matches could be played in empty stadia if there was danger of another attack.
He told reporters: "There is no chance of playing in front of empty stadia. The stadia will be full. I think that UEFA, the French state are doing everything to have a maximum of security. Today guaranteeing 100% security is impossible, but you must not be worried or afraid, the audience will come, the stadium will be full and it'll be the celebration of football despite the tragic events we went through in Paris."
Officials say there will be a 30 per cent increase in security presence around the 10 stadia that will host the month-long tournament beginning June 10.