New Zealanders vote on adopting a new flag
Comments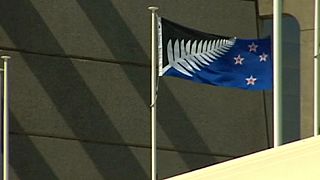 It's decision time for New Zealanders who've long been debating disposing of their current flag and its colonial links to Britain.
It is the second phase of a referendum which could see the country adopt a new flag featuring a white fern on a black and blue background.
The existing flag features the Union Flag in the corner and four red stars in a Southern Cross formation, indicating New Zealand's location in the South Pacific.
People opposed to change say wars have been fought and New Zealanders have died under the present flag.
But critics say it's too similar to Australia's and too closely tied to New Zealand's history as a British colony.
The new flag has already won a poll against four other contenders after a long, drawn-out public process where more than 10,000 designs were whittled down by a government-selected panel.
The centre-right government of New Zealand's Prime Minister John Key is divided on the change.
However, the new design is being backed by many high-profile sports stars who say it rightly gives pride of place to the white fern, a special symbol for kiwis.