France and UK boost cooperation on security and defence, including new drone technology
Comments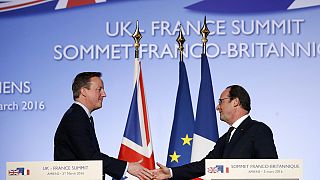 France and the UK have announced closer cooperation in areas of security and defence at a joint summit in northern France.
The British Prime Minister David Cameron and French President Francois Hollande announced a deal to work together on new drone prototypes, for example, and also intelligence sharing.
The migrant crisis also came up, including the evictions at a migrants camp in Calais.
Cameron said: "I can announce that we will invest an additional 17 million pounds in priority security infrastructure in Calais to assist the work of the French police.
He also said :"The money will go towards efforts to move people from the camps in Calais to facilities elsewhere in France."
Hollande said: "There is also this very important question for us about the unaccompanied minors. We have discussed this to make sure they can join their families in the UK."
It was also announced that the leaders of France, Britain and Germany will hold a conference call on Friday with Russia about the latest situation in Syria.
Earlier Cameron and Hollande attended a ceremony to commemorate the centenary of the World War One Battle of the Somme.
This took place at the British cemetery and memorial in Pozieres near Amiens.