NBA: No Magic against the Mavericks
Comments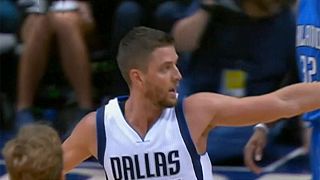 The Dallas Mavericks continued their fine form against the Orlando Magic this week when they beat Florida-based franchise for the third time in a row and a fourth time from the past five encounters.
Mavericks shooting guard Wesley Matthews hit all of his team-leading 21 points by the end of the third quarter.
Dirk Nowitzki added 19 points as did Zaza Pachulia, who posted his 24th double-double of the season adding 10 rebounds to the mix.
Ersan Ilyasova scored 22 points off the bench for the Magic in defeat while Nikola Vucevic chipped in with 18.
The Mavericks' 121-108 victory kept them in a sixth-place tie with Portland in the Western Conference while suffering their third loss from four games the Magic are languishing three spots away from the eighth and final playoff berth in the Eastern Conference.