Car bombing against Syrian rebels kills 18, says monitor
Comments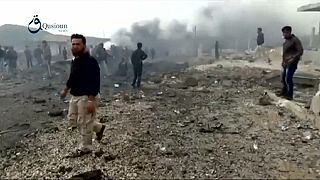 Monitors from the British-based Syrian Observatory for Human Rights (SOHR) reported at least 18 people were killed in a car bomb on Wednesday (March 2)which they say targeted a base of Jabhat Thuwwar Souria, a group linked to the Free Syrian Army.
Video footage purporting to show the aftermath of the blast in Syria's southern province of Quneitra on Wednesday has been uploaded onto social media.
Ceasefire violations
Russian Foreign Ministry spokeswoman Maria Zakharova said on Wednesday that the ceasefire agreement in Syria has been violated 31 times over the past three days.
She did not say who had broken the tentative truce between Syrian government forces and opposition rebels.
The cessation of hostilities drawn up by Washington and Moscow faced "complete nullification" because Syrian government attacks were violating the agreement, the official of the Saudi-backed opposition High Negotiations Committee said.
The cessation of hostilities, the first of its kind since the war began in 2011, is a less formal arrangement than a ceasefire. It is meant to allow peace talks to resume and aid to reach besieged communities.
France said there were reports of attacks on opposition forces in breach of the deal while the United Nations and the SOHR said the cessation was largely holding.
UNHCR

aid deliveries

The United Nations refugee agency (UNHCR) released video footage on Wednesday (March 2) showing the arrival of dozens of aid trucks to the besieged town of Moadmieyh in Syria.

The trucks arrived on Monday (February 29) and are the first to arrive in the town since a cessation of hostilities was declared on Sunday (February 28).

The video shows workers dispensing supplies to local residents and a little boy talking about how little he has eaten in recent days;

"Since the closure of the road I have not eaten. I have not put anything in my mouth. I need food, I need something to eat," he said.

Multiple videos have been uploaded to social media since Sunday by activists showing that airstrikes and fighting are still continuing across the country despite the truce.