Sauber and Toro Rosso show off 2016 challengers
Comments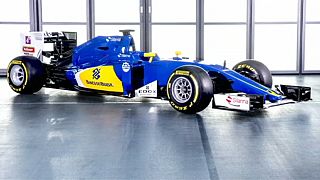 Formula One team Sauber released photos of their new C35-Ferrari this week as they ready themselves for the fast approaching 2016 season.
The for the second straight campaign Sauber have stuck with their driver lineup of Sweden's Marcus Ericsson and Felipe Nasr of Brazil.
Sauber finished last season eighth in the world constructors' championship.
Toro Rosso also unveiled their challenger for the new season.
Shortly before going out on track at the Circuit de Catalunya in Barcelona the Italian-based outfit took the wraps of its STR11 covered with its brand new livery.
The team's 18-year-old Dutch driver Max Verstappen said: "I enjoyed the first test, especially if you have a long break you want to get back into the car again. Everything was working well, for us the main focus was doing long runs and understanding the car and the engine together and it worked out well. It was a very positive test."
The teams are currently in their second week of testing in Barcelona where the Silver Arrows of Mercedes are sounding the warning bells to their principle rivals with glimpses of their searing pace on offer in the Catalan capital ahead of the season opener in Melbourne on March 20.