Real IRA Omagh bombing: case against Seamus Daly collapses
Comments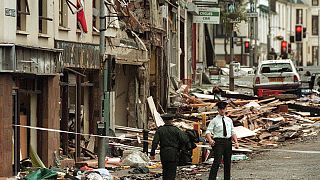 A court case against has collapsed against a 45-year-old bricklayer suspected of murdering 29 people in the 1998 Real IRA bomb attack in Omagh, County Tyrone.
Prosecutors drop charges against the alleged Omagh bomber. How did the carnage look in 1998? https://t.co/OXXmWjM3E2pic.twitter.com/wduyM4mRpC

— The Economist (@TheEconomist) March 1, 2016
Seamus Daly, who had been held in prison since 2014, was also accused of starting the explosion, but has always denied involvement.
He was released after the Public Prosecution Service decided there was not enough evidence to convict him.
The case against the only remaining suspect in Ireland's Omagh bombing has collapsed https://t.co/oN2ksveYQIpic.twitter.com/1Z2ysb4qHI

— VICE News (@vicenews) March 1, 2016