Barclays quits Africa as profit falls
Comments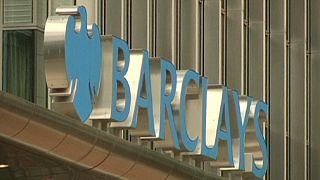 Barclays is quitting Africa after almost a century of doing business there.
The decision by the British bank is part of plans to simplify its structure and boost shareholder returns.
It will sell its 62 percent stake in Barclays Africa Group over the next two to three years.
Barclays also announced its pretax profit last year was 5.4 billion pounds (6.95 billion euros) – 2.0 percent down on the previous year.
The Africa exit is the latest cut by new Chief Executive Jes Staley who joined Barclays in December. Since then he has slashed Barclays investment bank and pulled out of several businesses including in Asia.
Staley said Barclays was fundamentally on the right path: "There is of course more we need to do and areas where I believe we can move much faster to deliver the high performing Group that Barclays can and should be."
CEO Jes Staley: #Barclays is fundamentally on the right path, and is, at its core, a very good business https://t.co/crv9X4erSM

— Barclays Bank (@Barclays) March 1, 2016
The bank also set aside yet more money for compensation for the mis-selling of loan insurance. There was an additional provision in the fourth quarter of 1.45 billion pounds (1.86 billion euros). That take the total sum allocated for customer redress to 7.42 billion pounds (9.54 billion euros).
Barclays confirmed that it is cooperating with the US authorities on an investigation into its hiring practices in Asia, becoming the latest bank to disclose involvement in a wide-ranging probe.
Out of Africa
Once at the heart of the Barclays expansion plans, Africa's growth prospects were dealt a blow when prices of oil and other commodities – export mainstays of many economies – dived. The economic slowdown in leading consumer China didn't help.
While the African division accounted for 13 percent of Barclays' core profit in the first nine months of 2015, its earnings growth was the slowest among the company's main businesses in that period.
Barclays has had a presence in Africa since 1925. Barclays Africa was created three years ago under a deal in which the British bank handed over ownership of its businesses in eight African countries to its South African subsidiary in exchange for a 62.3 percent stake in the new entity.
It makes most of its profit and revenue in South Africa and also operates in Kenya, Botswana, Ghana, Zambia, Mauritius, Mozambique, Seychelles, Uganda and Tanzania.
Analysts said Barclays could not be selling at a worse time and they will struggle to find buyers, but Chinese banks might be interested.