US expanding its role in the push to retake Mosul
Comments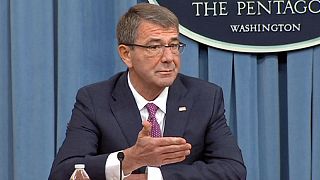 The United States says its forces will have a more enlarged role in the push take the northern Iraqi city of Mosul from the so-called Islamic State.
The Iraqi army is mobilising troops to prepare for an offensive to retake the city
Ash Carter, the US Defence Secretary, says he fully expects the United States to be doing more and differing in both scale and the kinds of things that it is doing.
Part of this help from the US will include more logistical support such as help with building temporary bridges and also cyber attacks, which the defence secretary said were designed to prevent ISIL from commanding their forces.
Carter said: "We expect it to be like Ramadi in the sense that the Iraqi security forces under the control of the government of Iraq, Prime Minister Abadi, will be in the lead, but we will be enabling them.
"And will we do more to enable them as they go north? Yes, we fully expect to do that."
As well as a larger role, the US expects the operation to retake the city will be bigger and more difficult than the one for Ramadi.
Mosul, which fell to ISIL in 2014, with more than a million people still living there, is the largest city controlled by the insurgents.