Iran counts votes but a clear winner may take days to emerge
Comments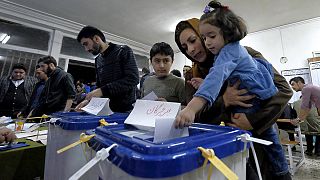 Iran has started counting tens of millions of votes after the country's first election since curbing its nuclear programme. That lead to the removal of crippling sanctions.
Supporters of the country's reformist president, Hassan Rouhani, who championed the nuclear deal are pitted against hardliners close to the country's supreme leader.

"It is a good feeling to exercise the civic rights," said one voter," because the change that people want to see happen, is happening in a peaceful and legitimate manner, the public have come to show that they are seeking a change.
Analysts say that Iranian voters tend to vote for candidates who promise change.
Euronews correspondent Javad Montazeri noted that after the initial 10-hour time slot for voting ended, it was extended by the election committee several times. People waited in long lines to cast their votes.
After Saturday's partial results, a clear outcome of who has come out on top may take days to emerge, as the numerous small parties and independent candidates form alliances and declare their allegiance.