Palestinian journalist reportedly agrees to end hunger strike in Israel
Comments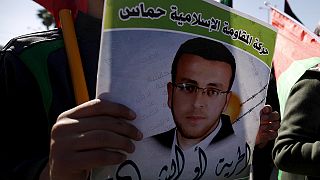 After weeks of demonstrations in support of a Palestinian journalist on hunger strike in Israel, an agreement appears to have been reached on his case.
It's reported Mohammed al-Qiq, who was detained by Israel in November, has agreed to end a three-month hunger strike.
The journalist has been held without charge, accused by Israel of being a member of the Islamist group Hamas.
The EU, UN and rights groups had expressed concern over the case.
Details about the agreement are not yet known, but its' reported Qiq is being treated in a hospital in the north of the country.
He'd been held in what is known as "administrative" detention, in which someone can be held without charge for long periods.
It's reported he will remain in hospital to recover and will then be released in late May.