Kosovo violence as Hashim Thaci is elected president
Comments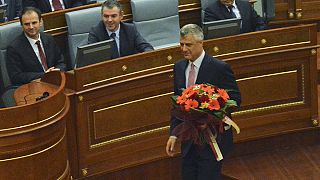 Police have used teargas and water cannon to disperse protesters in Kosovo's capital city Pristina as Hashim Thaci was elected the country's fourth president. The demonstrators say he gave too much power to Kosovo's ethnic Serb minority.
Groups of opposition supporters pelted police with Molotov cocktails and stones after they asked rowdy opposition lawmakers to leave the parliament session where the country's new president is being elected.
The violence on the streets of the capital and inside the parliament caps months of tensions between the governing coalition and opposition members.
The opposition has disrupted parliament since September with tear gas, pepper spray, whistles and water bottles to reject a deal between Kosovo and Serbia, reached last year, which gives more powers to ethnic Serbs in Kosovo.
The opposition also rejects a border demarcation pact with Montenegro.
On Friday, opposition lawmakers used tear gas inside parliament as the lawmakers were readying to vote on whether to elect Hashim Thaci, foreign minister and former guerrilla leader, as the next president.
Thaci, who led the fighters of Kosovo's successful separatist war against Serbia in 1998-99, believes he has the votes in the 120-seat Parliament. Kosovo declared independence in 2008, although that is rejected by Serbia.
Hundreds of opposition supporters than clashed with scores of police in city streets.
Serbia has refused to recognise Kosovo as independent.
Both are under pressure from the EU to improve relations to progress towards membership of the bloc.
Protests against the deal have frequently turned violent over the past year and opposition MPs have repeatedly disrupted the work of parliament by releasing smoke canisters in the chamber.
They say an EU-brokered deal,which Thaci helped seal, is unconstitutional. It improves relations between neighbouring Serbia and Kosovo.
Many Kosovars say the deal with Serbia threatens Kosovo's hard won sovereignty, which is recognised by more than a hundred countries including major Western powers.
Declaration of independence
Kosovo, which is majority Albanian, declared independence from Serbia with Western support in 2008, almost a decade after NATO air strikes drove out Serbian security forces accused of killing and expelling civilians from the ethnic Albanian majority during a counter-insurgency war.