NBA: Oklahoma halt losing streak with victory in Dallas
Comments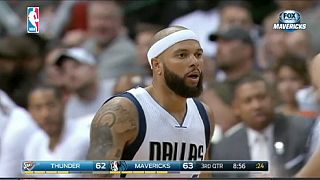 The Oklahoma City Thunder beat the Dallas Mavericks on Wednesday to complete a season sweep of the Texas franchise.
Oklahoma playing led for the entire first half against Dallas.
But the hosts managed to keep themselves in sight of their rivals in the third quarter thanks to Deron Williams and Dirk Nowitzki, who had a season-high 33 points to lead the Mavericks in defeat.
On the other side Kevin Durant and Russell Westbrook scored a joint team-high of 24 points while Steven Adams and Enes Kanter took turns with dominant stretches in the second half to help Oklahoma to a 116-103 victory.
The win for Oklahoma halted their losing streak at three games and was the perfect morale boost after their blowout defeat at home against Cleveland last time out.
While Oklahoma sit comfortably in third place in the Western Conference, Dallas have now lost six of their last eight games and are battling to make the playoffs.