A bout time: Professional boxers could appear at Rio Olympics
Comments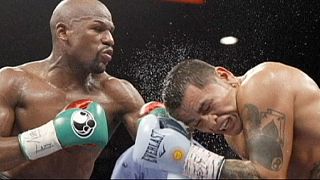 New plans being proposed at boxing's world governing body (AIBA) could see professionals allowed to participate at this summer's Rio Olympics.
Boxing and wrestling remain the only sports that carry an amateur status at the summer Olympics due to safety concerns.
In 2013 professional boxers became eligible for Olympic participation provided they had fewer than 15 paid bouts under their belt.
This new proposal has been put forward by the president of the International Boxing Association, Wu Ching-kuo during a commissions meeting in Manchester this week.
If the rules are ratified in time it would give national federations the chance to select whomever they want to participate.
That could mean a superstar like Floyd Mayweather could make the trip to Brazil in search of an Olympic gold – the only thing missing from his long list of achievements.
Mayweather competed at the 1996 Games in Atlanta but went home with bronze after controversially losing his semi-final bout 10-9 against eventual silver-medallist Serafim Todorov of Bulgaria.