Spanish deal aimed at forming new government but success far from certain
Comments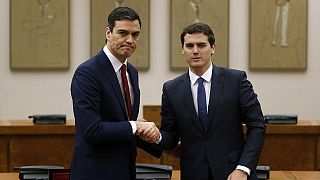 They are hoping to have found a way of forming a coalition government after inconclusive elections in December, but their success is far from certain.
The Socialist party in Spain has signed a deal with the new liberal Citizens (Ciudadanos) party, with the aim of making the Socialist leader Pedro Sanchez prime minister.
However, the alliance between the two parties will still not give them a parliamentary majority.
"I insist this deal adds up because the only political victory in it is the agreement," said Sanchez.
"It's an open agreement that doesn't exclude anyone and extends a hand to left and right so that we can, together, achieve a new era in our country. And, above all, so Spain can have a government next week."
However, the country's third party Podemos has already rejected any such deal.
A vote is to be held in parliament next Wednesday and the Socialists had been hoping the conservative People's Party would abstain to allow for a minority government.
But the deal involving the Socialists has now also been rejected by the conservatives.
If no political agreement is found, new elections will have to be held.