Shelter for gay refugees opens in Berlin
Comments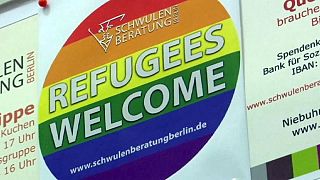 A gay rights group in Germany opened a new home in Berlin on Tuesday for homosexual refugees.
The project by Schwulenberatung Berlin is in cooperation with the city council will create shelter for over 120 people. It follows another small 10-bed shelter which has recently opened in Nuremberg.
Across Europe, gay migrants are reported to have suffered abuse in refugee shelters, with some being forced to move out.
"They are refugees like any other refugee, but they are also culturally isolated. And they have experienced a lot of violence. It starts with psychological violence… And it goes from verbal expressions of disapproval to discrimination up to physical violence with broken arms, broken noses, there've even been some attempted murders," said Stephan Jaekel, head of the Berlin Homosexual Counsel's gay refugees department.
Mahmoud Hassino, a 40-year-old gay refugee from Syria, said the new shelter would be a big improvement for gay, lesbian and transgender people who had suffered abuse. He came to Germany in 2014 and had to move out of a Berlin shelter because of the hostility of fellow refugees.
An investigation by the Associated Press news agency found scores of documented cases in Germany, The Netherlands, Spain, Denmark, Sweden and Finland. The abuse usually came from fellow refugees, and sometimes from security staff and translators.
The AP says the cases suggest a possible cultural clash: many migrants come from conservative Muslim countries where homosexuality is taboo and illegal.
Gay refugees in Europe face abuse, often at hands of fellow migrants, report kugrieshaber</a> & <a href="https://twitter.com/mikecorder">mikecorderhttps://t.co/secZy48NaU

— Frank Jordans (@wirereporter) February 22, 2016