Protest tents go up in Pristina's main square
Comments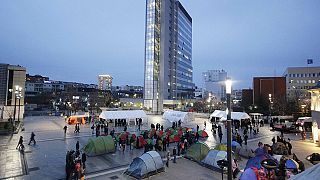 Hundreds of Kosovars have erected tents in Pristina's main square.
We will stay here until the government goes home
They are demanding snap elections and the suspension of a parliamentary vote that will bring in a president who helped broker a deal giving more powers to the ethnic Serb minority.
Kosovo Opposition Pitches Tents In Central Pristina, Calls For New Elections pic.twitter.com/8aSznxB4DT

— Lavdrim Lita (@lavdrimlita) February 23, 2016
In #Pristina protestiert heute die Opposition vor dem Regierungsgebäude gegen d. nächsten Präsidenten Hashim Thaçi. pic.twitter.com/KCFxf1sjr3

— FranziskaTschinderle (@franziska_tsch) February 23, 2016
Opposition parties accuse presidential candidate Hashim Thaci of nepotism and corruption. Thaci is also deputy prime minister and the head of parliament's biggest party, the PDK.
Kosovov Deputy Prime Minister Hashim Thaci vows election as president.#MillennialMonitorpic.twitter.com/Knuzud2uoW

— Millennial Monitor (@kylemillennial) February 19, 2016
The former prime minister denies the accusations.
The government says opposition party leaders are provoking violence and trying to drag Kosovo into "crime and anarchy".
Why are they protesting?
Kosovo declared independence from Serbia in 2008, almost a decade after NATO air strikes drove out Serb forces accused of killing and expelling ethnic Albanians during a counter-insurgency.
Opposition MPs in Kosovo keep setting off tear gas in parliament https://t.co/Nzlm5P66wRpic.twitter.com/8Uf1w0ncHB

— The Independent (@Independent) February 21, 2016
Why MPs in Kosovo are turning up to parliament in gas masks https://t.co/Nzlm5P66wRpic.twitter.com/F7pagDZAx7

— The Independent (@Independent) February 20, 2016
Many Kosovo Albanians believe last year's accord with Serbia represents a threat to the country's hard-won sovereignty.
However, its exact status is unclear after the constitutional court ruled in December that parts of it breach the country's laws.
What they are saying
"Kosovo cannot be governed by politicians who have endangered the country's sovereignty." – Visar Ymeri, leader of Vetevendosje, the largest opposition party.