Migrants resist as Greek police move to clear border 'bottleneck'
Comments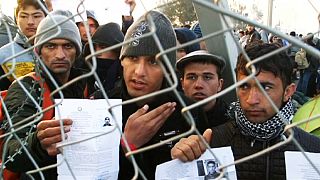 Greek police have started removing migrants from the border with the Former Yugoslav Republic of Macedonia to try to clear a 'bottleneck' that is creating increasing tension.
We want to go further. This is all we want.
A new tightening of controls by Macedonian authorities has left thousands stranded in Greece with nowhere to go.
Syrians and Iraqis are still being allowed through, with documentation, but access is being denied to Afghans.
It has sparked desperate scenes of people trying to break down border fences and refugees screaming and crying as they find their path blocked.
Greek police are trying to put those stuck onto buses, to transport them back to Athens.
BREAKING: Afghans are being removed from #Idomeni and returned to #Athens. pic.twitter.com/0MIezwr6Rq

— MSF Sea (@MSF_Sea) 23 Février 2016
Despite the locked door, many refugees are resisting attempts to send them back to Athens – determined to keep the hope of a new start alive for them and their families.
"We want to go further," said Salih, one migrant from Afghanistan.
"This is all we want. If we go back to Athens, what can we do? We have no money to buy, nothing to eat, where should we go? We cannot go back to Afghanistan. If we go back to Afghanistan, we are going to be killed."
There are, however, concerns at what may happen in Greece, where an influx continues unabated to its islands daily from Turkey.
On Tuesday morning, a further 1,250 migrants arrived in Athens by ferry from three Greek islands.