Migrants bussed back to Athens from border
Comments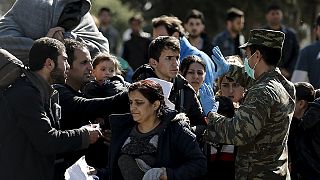 *Migrants bussed back to Athens from Macedonian border
*West Balkan states meet in Austria on Wednesday
Greece not invited
Greece has begun bringing migrants back to Athens from its northern border with Macedonia.
We were told Macedonia was closed
Restrictions in countries along the mainland route to Western Europe have left huge crowds building up behind a bottleneck at the frontier.
#greece Idomeni border: police ordered mostly Afghan migrants on buses bound for Athens PGiannakouris</a> <a href="https://t.co/8darmnTuhA">pic.twitter.com/8darmnTuhA</a></p>&mdash; Petros Giannakouris (PGiannakouris) February 23, 2016
More than 450 migrants, mainly Afghan nationals, were taken back to reception centres in the capital.
Diplomatic protest
Athens has filed a rare diplomatic protest with fellow EU member Austria for excluding Greek officials from a high-level meeting on measures aimed at curbing Europe's biggest inward migration since the Second World War.
Using unusually language, Greek Foreign Minister Nikos Kotzias described it as a "unilateral and unfriendly act."
Austria, the last country on the overland route to Germany, said last week it had imposed a daily limit of 3,000 migrants passing through. The country will only process 80 asylum claims a day.
Hungary says it will shut off three railway crossings used by migrants from February 22nd,
Slovenia has erected a fence on its southern border with Croatia to ensure migrants can only enter via official border crossings.
What they are saying
"The borders of the Balkan countries remain shut to the refugees. However, the influx neither stops nor reduces. Under current circumstances, while the European Council latest decision is constantly breached, there is an actual danger that Greece turns into a huge hot spot" – Panos Kitsikopoulos.
"We were told Macedonia was closed" – Fadi, 40, from Syria.
"The exclusion of our country at this meeting is seen as a non-friendly act, since it gives teh impression that some, in our absence, are expediting decisions which directly concern us"` – Greek Foreign Minister Nikos Kotzias.
"The Balkan route was a humanitarian corridor. It should close after consultations and not by turning one country against the other. We are faced with an action that has elements of a coup." – Greek Migration Minister, Yannis Mouzalas.