Dubai event turns spotlight on women and diversity
Comments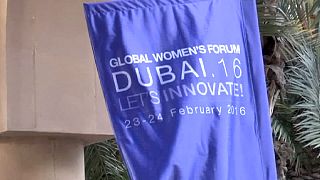 Thousands of people have gathered in Dubai to talk women and diversity.
The IMF's Christine Lagarde and Jordan's Queen Rania are among the speakers at what is billed as the Middle East's first ever Global Women's Forum.
Others attendees include officials representing government and academia, as well as art and culture.
The aim is to discuss ways of boosting female influence, workplace diversity and gender balance.
"If this forum can say that the first priority is education and if it can say it here, it's wonderful," said Jacqueline Franjou, Director General of Women's Forum.
"Second, women should take their own decisions, they should go forward, do not hesitate, be what they are, share humanity with the men. We are not part of the diversity, we are 50 percent of the humanity."
Around 2,000 people are expected at the event in all, as they seek to fulfil their lifetime goals.
"I enjoyed every moment today because I am just here for more experience, for who is the woman in this global world. So I think it's a value for me to think about my goal and how to reach my dream, actually," said Sharifa Khasrawi, Head of Internal Knowledge Unit, Dubai Courts.
In the opening discussions, speakers have been seeking to inspire the audience – with examples of how their lives have developed personally and professionally.
The hope is that it will further help boost the role and contribution of women around the world.