Would a UN-backed government save Libya's oilfields?
Comments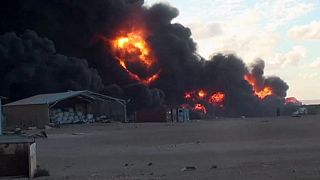 Oilfields in Libya are likely to come under further attack unless a United Nations-backed government is approved.
The comments come from the head of the National Oil Corporation, Mustafa Sanalla.
#LibyaSummit kicking off w/ Mustafa Sanalla, Chairman of NOC Libya giving the opening speech. #oilandgas#londonpic.twitter.com/Wci3W1BTWM

—

IRN

Oil & Gas (@IRN_OilandGas) October 19, 2015
He spoke out after ISIL militants targeted the Fida oil field last Friday.
The context
Experts say Libya is rapidly turning into a new front in the fight against ISIL.
The organisation is trying to exploit the years of chaos in the country to expand its foothold in the oil-rich, North African nation.
Forging a unified government is a monumental task. Libya has effectively been a failed state since the death of Muammar Gadaffi in 2011.
Post-Gaddafi, the country was carved up by powerful militias.
There are currently two governments. One is based in the capital, Tripoli, is dominated by Islamists and backed by a coalition of militias.
The other is internationally-recognised and based in the eastern city of Tobruk.
In numbers
Total production is 360-370,000 barrels per day
This is less than 25% of the 1.6 million

BPD

Libya was producing before the 2011 uprising
100,000

BPD

for domestic consumption, the rest exported
"If there is no new government, I think the situation will get worse. I believe there will be more attacks on the oil facilities." – Mustafa Sanalla