'Race against time' to reach Cyclone Winston victims in Fiji
Comments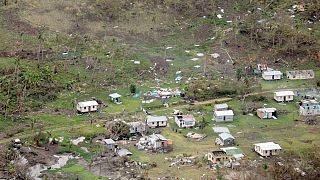 Fiji has embarked on a massive clean-up operation after what is described as the worst cyclone ever to hit the South Pacific island nation.
Local authorities have said at least 20 people were killed by Cyclone Winston, and the total is expected to rise.
The storm struck late on Saturday with winds of up to 325 kilometres an hour, flooding low-lying areas, flattening remote villages and cutting off communications.
Aid agencies assessing the extent of the damage warned of a widespread health crisis, particularly in low-lying areas of the country where thousands of the country's 900,000 people live in tin shacks, after crops were wiped out and fresh water supplies blocked.
"In this type of emergency, it really is a race against time to get immediate relief to those who have lost everything and ensure families can stay safe and healthy," said Anna Cowley, an adviser for CARE Australia in Fiji.
"Race against time to get relief to those who lost everything" CARE's Anna Cowley on #CycloneWinston via abcnews</a> <a href="https://t.co/qW2fFi6CTT">https://t.co/qW2fFi6CTT</a></p>&mdash; CARE Australia (CAREAustralia) February 22, 2016
"Power lines have gone down all over the country and roofing iron, glass and electric wires and other hazardous materials pose serious threats to public safety. We are working hard to make our streets and communities secure once again, but that will take time," said Fijian Prime Minister Frank Bainimarama, adding that the storm had left people stunned.
The Fijian government has called for an urgent and coordinated response from the emergency services to help those in need.
Almost 8,000 people remain in emergency shelters where they had taken refuge before the cyclone.
A curfew imposed during the storm has been lifted, enabling emergency workers to reach the more remote parts of Fiji's 300 islands.
Australia and New Zealand have authorised the release of emergency supplies and have sent planes to help assess the damage.
A NZAirForce</a> C-130 is Fiji-bound with 12 tonnes of aid & interagency damage assessment team <a href="https://twitter.com/hashtag/CycloneWinston?src=hash">#CycloneWinston</a> <a href="https://t.co/0s2Fje6SuK">pic.twitter.com/0s2Fje6SuK</a></p>&mdash; NZ Defence Force (NZDefenceForce) February 22, 2016
#CycloneWinston has left children's lives in utter chaos. Please help UNICEF deliver lifesaving supplies now https://t.co/3wTEaZ5i2Y

—

UNICEF

Australia (@unicefaustralia) February 22, 2016
This weekend, Cyclone Winston inflicted the 2nd strongest landfall in world history on Fijihttps://t.co/insE33jSlypic.twitter.com/OkDPEhN0f7

— Eric Holthaus (@EricHolthaus) February 22, 2016