Polish authorities claim papers prove Walesa's Communist ties
Comments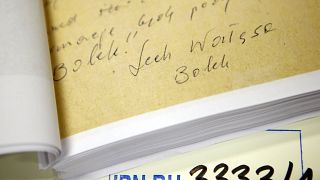 Poland's state archives have released 700 pages of documents it says prove former President Lech Walesa was a paid informant of the communist-era secret police.
The Institute for National Remembrance published the papers, which date from 1970 to '76 and include the former leader's code name 'Bolek' underneath his signature.
Historian Sławomir Cenckiewicz, who wrote a book on Walesa's alleged collaboration with the secret services agreed with the Institute:
"Before this I knew of eight documents signed by secret collaborator Bolek – Lech Walesa," says this historian. Now I have seen dozens or even more – I didn't count. This is a classic example of documentation proving a secret agent's collaboration."
Walesa, who rose to prominence for his role in the collapse of Communism, admits he signed them, but denies collaborating with the secret police.
Speaking from a tour of the Americas, Walesa was guarded about the new release:
"But also I have signed apparently some things that I have some difficulties with today and I have to explain myself. And I have signed them in good faith, so let the history decide."
It is not yet clear if the papers were fabricated by the police – a common practice at the time.
One handwritten note is included in the file. Dated December 21, 1970, it reads:
"I commit myself to cooperate with the secret police in exposing and fighting the enemies of the PRL (Polish People's Republic)."
At the time, Walesa was leading worker protests in the Gdansk shipyard where he was working as an electrician. The demonstrations terminated in bloodshed.
The papers were kept for decades at the home of the last Communist interior minister, Czeslaw Kiszczak. In 1996, he left a note saying the file was not to be made public until five years after Walesa died. However, after Kiszczak passed away last year, his widow informed the institute of their existence, reportedly asking for money in return.