Lech Walesa was 'paid communist agent' - Poland's history institute
Comments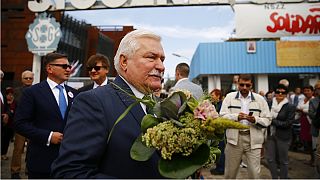 Polish historical investigators say newly uncovered documents show Lech Walesa – the former President and hero of the Solidarity movement that famously challenged communist rule – had previously been a paid informant for the Soviet-era security services.
We found a handwritten commitment to cooperate with the Communist secret services signed: 'Lech Walesa, Bolek'
Walesa, now 72, has repeated his long-standing denials over the claims of collaboration.
Documents examined
But Poland's state Institute of National Remembrance has inspected documents seized this week from the home of the communist era's last interior minister, the late General Czeslaw Kiszczak. It says they include a signed pledge to provide information from 1970 to 1976.
The institute says an expert has authenticated the documents, which the ex-minister's widow reportedly tried to sell.
"In the personal folder there was an envelope, in which we found a handwritten commitment to cooperate with the Communist secret services signed: 'Lech Walesa, (and the codename) Bolek'. Among the documents there was also a handwritten confirmation of money received, again signed 'Bolek'. In the secret collaborator's operational folder there were 279 pages in their original covers, including numerous reports of the secret collaborator 'Bolek'," said Lukasz Kaminski, the institute's head.
#Poland#news – Et tu #Lech? #Secret papers suggest #Solidarity hero #Wałęsa was paid #communist informer '#Bolek':https://t.co/yoKIwClku6

— Inside Poland (@InsidePoland) February 18, 2016
A clever game?
Ahead of the announcement, Walesa insisted on his blog that there cannot be any files relating to him. He is said to be currently travelling in Venezuela. In 2000 he was cleared of collaboration by a special court in Poland.
Moscow-backed communism in the aftermath of World War II was despised by many Poles. As in other eastern European countries the security services were used to suppress dissent and keep people under control.
In an interview with the Guardian newspaper in 2011, Walesa alluded to a certain ambiguity in his relationship with the secret police as workers' activist in the early 1970s.
"It was all a clever game," he said. "Not for a moment was I on the other side."
Lech Walesa sprang to international fame in 1980, when from the Gdansk shipyards he spearheaded the Solidarity trade union in a direct challenge to Poland's communist rulers.
Unrest in the country led to martial law being imposed in Poland in late 1981, but the events are seen as setting into motion a movement that eventually brought about the fall of communism across the eastern bloc by the end of the decade.
Divisions over communist era
Walesa was awarded the Nobel Peace Prize in 1983 for his role as leader of Solidarity. But his popularity has waned over the past two decades and Poland remains divided over the record of Solidarity activists once in government in the post-communist era. Walesa was president from 1990 to 1995, Poland's first freely elected leader for more than 60 years.
Poland's current ruling nationalists from the right wing Law and Justice Party argue that communist-era authorities still hold positions of power and need to be ousted.
The party was formed in 2001 by twin brothers Lech and Jaroslaw Kaczyninski, who had been Walesa's political advisers when he was president, before later falling out with him. When allegations surfaced that he was Agent Bolek, they accused him of having been a secret police informer.
But historians have cast doubt generally over claims of collaboration with the country's communist rulers, arguing that many forgeries were created by the former security services to smear pro-democracy activists.
One leading historian has reportedly said that the impact of the latest claims would be limited unless evidence showed that Walesa had been an informant after he founded the Solidarity movement.
#LechWalesa Historia wg #PISpic.twitter.com/qKhTx3bEPn

— EcoJestOK (@EcoJestOK) February 18, 2016