New Zealand remembers Christchurch earthquake five years on
Comments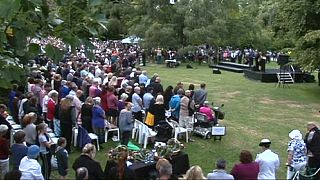 In New Zealand a ceremony's been held to commemorate the fifth anniversary of the earthquake that struck Christchurch, killing 185 people and destroying the city's central business district.
Friends and families of the dead and those who were seriously injured were joined by emergency workers who helped in the aftermath, as well as senior politicians including the Prime Minister John Key.
After a minute's silence at the exact moment the earthquake struck, mourners threw flowers into the River Avon which flows through Christchurch.
CCTV footage from the time shows the impact of the quake as goods on supermarket shelves came crashing down.
The tremor which measured 6.3 struck just 10 kilometres from Christchurch, then New Zealand's second most populous city. It was the country's second deadliest natural disaster.
It damaged infrastructure already weakened by an earthquake months earlier.
More than 100 people died when one building which housed a TV headquarters collapsed. A later inquiry found its design was faulty.
There have been complaints over the official inquiry's progress and over insurance payouts.