Fears of a bottleneck as Macedonian-Greek border restrictions tightened
Comments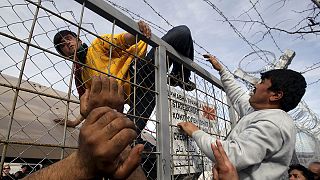 Clashes broke out on Greece's northern border as dozens of migrants attempted to tear down and climb over a fence into the Former Yugoslav Republic of Macedonia.
Thousands have been left stranded after Macedonian authorities reportedly closed the frontier to Afghans. Apparently, only Iraqis and Syrians are being allowed through.
Afghan national Salih said returning to his homeland was not an option.
"Our plan is either to cross the border or to die over here. There is no place for us to go back to Afghanistan. All the Afghans, especially me, I am a soft target for the Taliban in Afghanistan," he told reporters.
Some 5,000 people are stuck at two locations across northern Greece. A further 4,000 who arrived on the mainland on Monday (February 22), are being urged not to travel north. Aid agencies have expressed concern that if the border restrictions continue,a huge and potentially dangerous bottleneck will form.