German police defend their handling of migrant bus unrest
Comments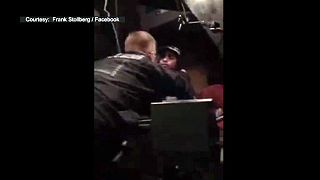 Accused of being heavy-handed, police in eastern Germany have defended their forced removal of asylum seekers from a bus which was surrounded by anti-migrant protesters.
Many inside the vehicle were afraid to get off to go to their shelter, in a village south of Dresden, because of the 100 or so angry demonstrators shouting slogans such as 'We are the people'.
Videos of the incident posted online have prompted outrage but local police chief Uwe Reissmann was unrepentant.
"We had to take the asylum seekers to the secure accommodation as quickly as possible to prevent an aggravation of the situation and risk casualties and material damage. From my point of view, there will be no consequences regarding police conduct at all," he said.
But Reissmann added that one or more of the passengers would be investigated, amid claims they provoked the protesters by making obscene gestures and filming the event.
Germany, Europe's most populous country and its largest economy, has borne the brunt of the continent's biggest refugee influx since World War Two. Some 1.1 million asylum seekers arrived in Germany in 2015, most of them fleeing war and poverty in Syria, Afghanistan and Iraq.
But public resentment of Chancellor Angela Merkel's welcoming stance has grown, fuelled by incidents such as mass attacks on women at New Year in Cologne which have been blamed on migrants. There are also fears that there is rising support for right-wing groups.
In Thursday's unrest, the mob gathered around the bus to try to stop the asylum seekers from reaching their shelter in the village of Clausnitz in Saxony, in scenes described by state Interior Minister Markus Ulbig as 'deeply shameful'.
Elsewhere, however, many Germans are volunteering to help refugees settle into their new homes.
An array of bottom-up initiatives have drawn refugees and migrants into local communities via cooking, gardening, sports, yoga, mentoring programmes and coffee afternoons.
A recent survey by the Evangelical Church in Germany (EKD) found that around 11 percent of Germans were helping refugees. In Berlin alone, more than 150 initiatives are dedicated to doing so.
Without Germany's contributions we would find ourselves in a different Europe-@RefugeesChiefhttps://t.co/eAbsyGGaOwpic.twitter.com/uFMOf9KBVq

— Melissa Fleming (@melissarfleming) 18 Février 2016