Fiji cyclone kills at least five, raises fears of health crisis
Comments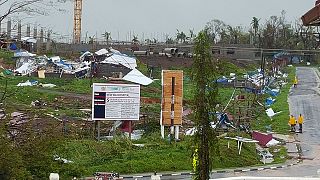 Humanitarian agencies are warning that Fiji may be facing a potential health crisis after one of the most powerful cyclones on record battered the Pacific island nation.
Harsh winds and torrential rains cut power, water and communication links across the country on Saturday night.
The archipelago of about 300 islands was hit by winds that gusted up to 325 kilometres an hour.
The capital Suva escaped the brunt of the storm after it changed direction at the last minute.
Fiji's prime minister confirmed that at least five people were killed in the cyclone. He has extended a nationwide curfew to Monday .. and declared a month-long state of emergency.
Residents flocked to more than 700 evacuation centres, while tourists hunkered down in hotel ballrooms and conference rooms in coastal areas.