A deadly day in Syria as dozens die in Damascus and Homs
Comments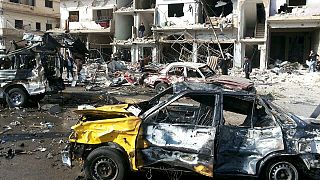 Dozens die in attacks in Damascus and Homs
Warnings the death toll could rise

ISIL

admits Damascus attack
It is feared dozens of people have been killed in a series of explosions in the Syrian city of Homs and the capital, Damascus.
At least four blasts were heard in the southern Damascus suburb of Sayyida Zeinab.
The attack reportedly happened near the Sadr Hospital in Sayeda Zainab, right next to the shrine #Damascus#Syriapic.twitter.com/TGR20bMpmt

— Michael Horowitz (@michaelh992) February 21, 2016
30 killed and tens injured in multiple blasts near Sayida Zeinab shrine near Damascus according to Fars News Agency pic.twitter.com/6j1uVaZUV4

— potkin azarmehr (@potkazar) February 21, 2016
#IsraeltheRegion#Syriancivilwar#Hezbollah#ISIslamicState Dozens killed in Damascus triple bombing https://t.co/D0iYP4i5Mm

— Israel News (@IsraelNewsNow) February 21, 2016
At least 30 people are said to have been killed. 180 have been injured.
The group calling itself Islamic State claims it was behind the attacks.
Homs
At least 57 people, the majority of them civilians, died in a double car-bombing in Homs.
Police say the two cars had been parked on opposite sides of a crossroads. The the first explosion triggered the second.
Footage Shows Chaotic Scene After Massive Suicide Attack Kills 46 In Homs, Syria https://t.co/1J8D8TYBoApic.twitter.com/dP5AVX1TyA

— Tanya

USA

(@Tanya_USA) February 21, 2016
State media footage shows aftermath of deadly bomb attack in #Syria's #Homshttps://t.co/O56RhjAzYWpic.twitter.com/H27dOgrkiL

— YouTube Newswire (@ytnewswire) February 21, 2016
Zahara has been the target of previous attacks. Last month, a double suicide attack was claimed by ISIL.
Nobody had claimed responsibility to Sunday's blasts.
#Syria#Homs Another Terrorist Attack Strikes #Zahra Neighborhood. A number of Dead/Injured Civilians reported. pic.twitter.com/d7gFecgkMH

— Ivan Sidorenko (@IvanSidorenko1) February 21, 2016
46+ killed, 110+ injured in double car bomb attack in Syrian city of #Homs. pic.twitter.com/XEnbEXL87N

— JJ Green (@NATSEC09) February 21, 2016
The area is a predominantly Alawite district, the minority sect to which President Bashar al-Assad belongs.
Monitors say up to 100 people were injured in the attack and have warned the death toll could rise further.